Supreme 777 Jackpots Blackjack
Released in May of 2023 see our review of why you will want to play the Supreme 777 Jackpots Blackjack game with a large progressive jackpot.
Introduction to Supreme 777 Jackpots Blackjack
Introducing Supreme 777 Jackpots, the latest addition to the world of online gaming. If you're a fan of jackpot thrills and strategic gameplay, this game is a must-try. Developed by Betsoft, Supreme 777 Jackpots is an exhilarating multi-hand Blackjack variant that allows you to play up to three hands simultaneously.
With exciting side bets like the Supreme 777 Jackpot and Perfect Pairs, you can enjoy the game from the comfort of your own home or on the go, competing against the virtual dealer for that coveted Blackjack win.
Unveiling the New Blackjack Game
As mentioned, Supreme 777 Jackpots offers the excitement of three simultaneous hands of Blackjack played across six card decks. As you take a seat at the table, you can immerse yourself in the soothing sounds of light jazz playing in the background while the cards are expertly dealt.
The Thrill of Supreme 777 Jackpots
Supreme 777 Jackpots takes the classic game of Blackjack and adds thrilling features to amplify the excitement. One notable addition is the Progressive Jackpot, which presents players with the opportunity to win substantial sums of money. Additionally, the game incorporates the Perfect Pairs Side Bets mechanic, allowing players to increase their winnings even further.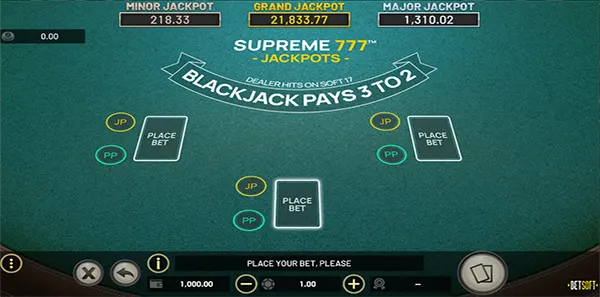 Gameplay and Features
The game follows the familiar "Las Vegas Strip" rules, with the exception that the deck is shuffled after each round. Players have the unique advantage of doubling after splitting and doubling on cards 9, 10, and 11 only. Each hand will be played against the bank, and you'll have the option to place your bets on the hand and also the feature, players can do this bet at the same time or separately.
Your goal as the player is to score 21 or get as close to it as possible. Defeat the bank, and you'll collect winnings at a ratio of 3/2x before the next round. Achieve a total of 21 with the first two cards, and you've hit Blackjack!
Exciting Side Bets
The excitement of this thrilling new game is only just getting started as Supreme 777 Jackpots also introduces the Perfect Pairs Side Bet, where you can try to match the first two cards dealt by their face value, color, or both. A successful match can reward you with a payout of up to 25 times your bet, instantly. Simply place your bet on the PP logo to participate in this thrilling side bet.
Additionally, the game lives up to its name by offering the chance to win Minor, Major, or Grand Jackpots with the Jackpot side bet. This side bet operates as a separate game from the classic Blackjack main game.
To activate the feature, place your bet on the JP logo. A single lucky 7 will trigger a payout, and the payouts increase with each 7 dealt. If the first three cards dealt are all lucky 7s, then it's Jackpot time and your in for a great time. If those 7s all happen to be Spades, then one lucky player could potentially win the entire Grand Jackpot.
Play On the Go
Supreme 777 Jackpots is a May release by Betsoft, designed with HTML5 technology. This means you can enjoy the game on any desktop, tablet, or mobile device, allowing for seamless game play while on the move. Whether you're using an Android, iOS, or Windows mobile device, the game will automatically adjust to fit your screen size, ensuring a smooth and immersive experience. Plus, you'll have access to the exciting Supreme 777 Jackpot and Perfect Pairs side bets wherever you go.
Appealing to a Broad Audience
Supreme 777 Jackpots caters to a wide range of players, combining elements of traditional Blackjack with innovative features. Anastasia Bauer, Head of Account Management at Betsoft Gaming, expressed her excitement about the game's release, emphasizing its appeal to both traditional Blackjack enthusiasts and those seeking fresh and captivating experiences. With an impressive 97.86% RTP (Return to Player) and a deliberately wide betting range, Supreme 777 Jackpots promises endless entertainment and substantial winnings for all types of players.
Final Thoughts
While the online casino world is abundant with many different slot games available to players, the excitement is amplified when a new card or table game is released, especially when it is a game that has engaging side bets that becomes available.
If you're looking for an exciting experience and love online Blackjack, we'd highly recommend you try out Supreme 777 Jackpots, which is available at any Betsoft online casino. With its thrilling Supreme 777 Jackpot and Perfect Pairs side bets, this game offers endless entertainment and the potential for players to gain some pretty impressive big wins.
Davincis Gold

200% Slots Bonus
US Accepted
Mobile Available
Progressive Jackpots
Live Dealer Games
18+ Terms and Conditions Apply
See casino site for more information. Please gamble responsibly. 18+ begambleaware.org.