Rolling Stack Blackjack
Popular among players who like to play 21 variants with side bets we look closer at Rolling Stack Blackjack from Rival Gaming.
Introduction and Background
The Rolling Stack Blackjack game was released by Rival Gaming in the Fall of 2021. Even though the game has only been around for a short time, blackjack players have adapted quite well to it. Many novice players enjoy this new variation of the game, but many professionals enjoy it as well.
Aside from offering an entertaining experience, this unique game also offers the chance for players to win tremendous amounts of money by taking part in the game. Online casinos have made playing and winning this game so easy. This may be part of the motivation that so many people have been enjoying this game around the world since its release.
What Is Rolling Stack Blackjack?
With its unique twist on the classic blackjack game, Rolling Stack Blackjack was developed by Rival Gaming software. They set out to offer players a blackjack game that has a twist of side bets to add to the fun of the game. You could almost say it is a mixture of poker and blackjack in one.
As you may already know, Blackjack is one of the most popular card games in the world, where the objective is for players to receive cards that are higher than those of the dealer, without exceeding 21. Using rolling stack blackjack's side bets allows players to enjoy a relaxed gaming experience while taking advantage of the advantages that come with side bets as a result of the high returns.
How To Play Rolling Stack Blackjack
There are two wagers available in Blackjack Rolling Stack. The first wager is the classic blackjack wager, and the second wager is an additional side wager. It is possible to win a multiplier if you have an Ace/King combination of the same suit. Additionally a straight flush, or a straight also win the side bet. With the concept of a rolling stack, a player can choose whether to collect their winnings or to use them towards their original blackjack wager to increase their chances of receiving bigger rewards in the future.
Every time a player makes a blackjack wager, the player has the option of including a Rolling Stack wager as part of the wager. As soon as this is done, the player will be dealt two hands.
The side bets listed below will then reward you with a win when you hit a two-card combination:
Straight Flush
Ace/King suited
Straight
Pair
As mentioned prior, It is also possible to collect or tack on a winning Rolling Stack bet to a standard blackjack bet if it appears as part of a winning combo.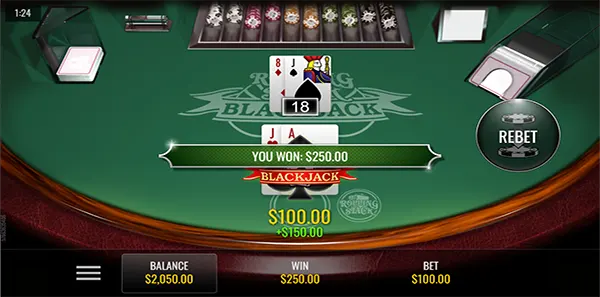 How To Win The Game
In the world of poker, there are numerous ways for players to win. There are the Straight Flush, Ace-King Suit, Straight, and Pair, which are all winning hands that can be used to win again. When any of those hands are dealt out at the start of a player's game, that player will win if they receive any of them. Moreover, players can also choose to collect their winnings or add them to their normal blackjack wagers depending on their preference.
The Main Appeal Of Rolling Stack Blackjack
According to the Return to Player (RTP) statistics, this particular variation of blackjack has an RTP of 97.21%. Playing Rolling Stack Blackjack correctly can offer several advantages.
Regardless of whether you're a beginner or a pro, If you enjoy playing table games or card games, you'll be happy to discover that you can enjoy playing this online casino game across a variety of different devices and platforms.
Where To Play Rolling Stack Blackjack
You can play this exciting card game at most online casinos that offer classic blackjack games and variations of it. Players who want to test the game out before wagering real money can also do so by playing the demo and free versions offered by some online casinos too.
Rolling Stack Blackjack Theme
Additionally, the game's appearance and theme are heavily influenced by blackjack games in real life. On a green casino table, new, unrevealed cards rest on the peripheral. Playing this game is enjoyable due to its sleek and minimalistic appearance, and menus are conveniently placed at the bottom without much text cluttering up the screen. Its dark theme and many rewards keep players hooked on the game and keep them playing.
Final Thoughts
Because the game boasts a very high Return to Player of 97.21%, this exciting online blackjack game has become extremely popular around the world and has also made it one of the most played casino table games of all time. With its rolling stacks and large wins, this version of Blackjack will become one of the most popular blackjack variation experiences in no time at all. Both amateurs and seasoned players will take a shine to the added benefit of the side bets of this game.
We rather enjoy some hands of Rolling Stack when we are in the mood to play blackjack. We often prefer the Rival version of the game which you can also try at most online casinos that have the Rival games. Below we have listed one of our featured casinos with Rival software.
Davincis Gold

200% Slots Bonus
US Accepted
Mobile Available
Progressive Jackpots
Live Dealer Games
18+ Terms and Conditions Apply
See casino site for more information. Please gamble responsibly. 18+ begambleaware.org.