Pontoon Blackjack
Pontoon blackjack is one of the many different variants of blackjack you can play in casinos. Let's look closer at the game.
Pontoon Introduction
No matter how new you are to casinos, blackjack is sure to be familiar to you. Online gaming revolutionized the game of 21. As developers explored innovative ways to play the game, they created new variants with both main bets and side bets. one of those mentioned variants is Pontoon.
In addition to being among the most exciting blackjack derivatives, pontoon is also one of the most advantageous games in casinos. Online casinos have different house edges so depending on where you decide to play, this variation of blackjack usually has a lower house edge than other variations.
This review will focus on RTG's specific version of Pontoon. Several other software providers offer Pontoon games, such as Playtech and Betsoft but their theoretical RTP is lower than RTGs. You're therefore best off picking a casino powered by this specific software house if you're looking to play Pontoon online for real money.
What is Pontoon?
Pontoon is a banking-style card game that is usually played by three to ten players at land-based casinos but can also be played online. It is a version of the classic 21 game and has become hugely popular due to the high return to players.
Pontoon & Blackjack's Similarities
A 21-value hand or a hand as close to it as possible is the main goal of both games. Cards are ranked the same way and hands are created the same way. Essentially, these are the only similarities.
Pontoon Blackjack Screenshot
The screenshot we are showing below is from the download version of RTG Pontoon blackjack. This particular capture was taken at Everygame Casino Red a trusted RTG casino.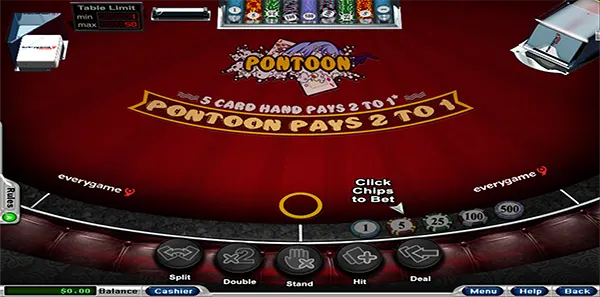 Pontoon Rules
The Return to Player for Pontoon is usually around 99.64% and tends to pay 2 to 1. This multi-hand game is played with 8 card decks. Insurance, surrender and side bets are not available in this pontoon game and due to the high RTP, there is also no insurance available whilst playing.
Pontoon tends to have both Split and Double Rules. Players can Split any pair and Resplit Up to 3 hands. Any two cards can be doubled, even if it's done after a split. Players are also able to hit split aces. In pontoon, the dealer rules and it is important to note that:
Both the dealer cards will be face down.
There is a 5 card charlie rule.
When a push situation arises, the dealer wins.
Hits: soft 17.
How to Play Pontoon?
The classic casino game Pontoon is a variation of blackjack, as such, it has a lot of its elements as well as some substantial differences, including the table layout and the basic rules. Pontoon is similar to classic blackjack in that your goal is to have a higher hand than the dealer. Aces count as one or eleven, while all other cards count as their natural numbers. In Pontoon, the highest hand is an ace and a ten-valued card, which pays 2:1. It pays 3:2 in most blackjack variations, so this is the first difference.
There are five betting slots on a Pontoon table, which means you can play up to five hands simultaneously. At most RTG casinos, you can place bets as low as $1 and as high as $100 on this game. Furthermore, you may choose from a variety of colors for the table itself including blue, black, purple, orange, white, blue-green and also red, in addition to the usual green. This give's the players the benefit of changing the table to their preference. As soon as you place your bet (or bets, if you are playing multi-hand), the game begins.
In classic blackjack, only one of the dealer's cards is face down when you click the Deal Button. However, you will get two cards face down in Pontoon when clicking the Deal Button. Depending on the hand you receive, you'll need to decide if you want to hit, stand, double your bet and get another card or split if the two cards are equal. The hand total must be at least 15 before you can stand.
Advantageous rules in Pontoon vs Blackjack
A few more advantageous rules exist in Pontoon, such as the fact that a new hand is considered Pontoon rather than a regular hand if you get a ten and an ace after splitting. Furthermore, Three Card Charlie (also known as Five Card Trick) is another rule that gives the players a significant advantage. In this case, a hand lower than or equal to 21 that's containing five cards is higher than any other hand except Pontoon, and it pays 2:1.
Dealers Rules
There are rules for players as well as dealers in Pontoon, as in other blackjack variations. In the first instance, the dealer peaks even before the player makes any move. A soft seventeen is also subject to the rule that the dealer must hit any hand with a total of 16 or lower. It's the dealer who wins when there's a tie.
Where to Play Pontoon
Because this is such a popular game, players will be able to find Pontoon at most land-based and online casinos. Some online casinos even have a free play mode available to players to help you get a feel for the game and how it is played before making real money wagers.
Final Thoughts
If you are already a big fan of Blackjack then Pontoon will be a game of interest to you. It might be best to start with the classic version of Blackjack or Blackjack Surrender if you are new to Blackjack but for the players with some experience that want a different kind of challenge then Pontoon is the perfect game for you as it will allow you to further practice your skills and strategies.
We like the RTG version of Pontoon, but admittedly we also play the download client of rtg casinos more often then some players. In addition the instant play version of Pontoon from Betsoft is nice as well, so either choice in casinos is well worth it for playing Pontoon Blackjack.
Casino Max

325% tp to $3250
US Accepted
Mobile Available
Progressive Jackpots
Live Dealer Games
18+ Terms and Conditions Apply
See casino site for more information. Please gamble responsibly. 18+ begambleaware.org.