Super 21 Blackjack
Several player-friendly rules make Super Fun 21 blackjack a popular variant. Blackjacks usually pay even money to offset these rules.
Offered in Some Land Based Casinos
Casinos in Las Vegas offer this variant. Additionally, it is available in some regional markets. The same games are available at online casinos under different names, but they follow the same rules.
It can be found at Playtech casinos under the name Blackjack Super 21. RealTime Gaming and Microgaming called the game Super Fun 21 blackjack.
The following information will help you understand how Super Fun 21 differs from traditional blackjack, how to play, and what strategy is optimal.
How to Play Super Fun 21
There are live and online casinos where you can play Super Fun 21.
You will place your chips on the circle in front of you when you play at a live casino.
When you are at an online casino, click the chip denomination you would like to use. Click the virtual betting circle as many times as is necessary to equal your desired wager. Click on the deal button.
The dealer deals two cards to each player including the dealer's hand. Each player receives a face-up card. There is one up and one down for the dealer.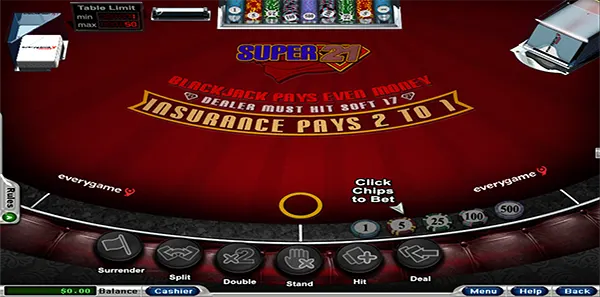 This particular screenshot above was taken from the download client of Everygame Casino.
Basic Rules of Super 21
In the case of blackjack, the player is paid immediately. It is 2:1 if you have a suited diamond blackjack. All others receive even money. A player with a blackjack wins, regardless of whether the dealer has one as well.
You have the choice of Insurance when the dealer shows an axe. If the dealer has a blackjack and players' bet insurance, they receive 2:1.
Whenever the dealer shows a 10-value card, the house checks for blackjack, but no insurance is offered. All players without blackjack lose if the dealer has blackjack. Otherwise, the hand will continue as usual.
When you play online, click hit on the screen or tap the table in front of your cards. Your click will trigger you being dealt a card. As long as you do not go over 21 or win your hand, you may hit. If you have six or more cards without busting, you automatically win. When you have five cards or more, you automatically receive 2:1.
Handling Your Hand After the Deal
You can stand by waving your hand above your bet. Click the Stand button if you're playing in an online casino. Hands are no longer dealt cards after this point.
Before a hand is forced to stand, you can double down for one more card. To double down you will need to match your original wager with the same size chip during a live game. The double-down button can be found at an online casino and will match the bet automatically. You can do this on as many cards as you like.
Folding involves receiving half of the wager back after a player folds. You can do this by running your finger over the bet in a live game. Click the surrender button at an online casino.
The number of cards you can surrender at Super Fun 21 is unlimited. If you draw an undesirable card after doubling down, you can surrender.
In the case of a pair, the player has the option of splitting. In this case, each of the paired cards will be in a separate hand. A new card is dealt to each hand. Following that, you have the option to hit, stand, double down, or surrender the hand as if it were a new one.
In a split hand, the player can split another pair if they receive another pair. A maximum of four hands can be played. Re-splits, hits, and doubles are allowed for split aces. It is possible to surrender after splitting.
Dealer Actions in Super 21
The dealer reveals their hole card once the players have acted. If the dealer has a hard 17 or 18 or higher, the house stands. As long as the dealer has a 16 or lower or a soft 17, the hand can bust until it reaches 17 or more.
Each player's count is compared with the dealer's after the dealer's hand has been resolved. Dealers win if they have more points than players.
Unless the player has five or more cards, the player wins even money if his or her score is higher than the dealer's. 2:1 is paid for that. Dealers and players with the same count push. Players' bets are returned in this case.
Super Fun 21 and Traditional Blackjack:
Differences and Similarities
Compared to traditional blackjack, Super Fun 21 has many different rules. Blackjack always results in a win for the player. Unless it contains two diamonds, it pays even money. There is a 2 to 1 payout in that case.
We have listed other key differences below.
It is possible to hit or double-split aces.
There is no limit to how many times a pair can be split, even aces.
When a player hits a certain number of cards, he or she may surrender.
If a double-down fails, players may surrender.
An automatic win occurs when a hand with six cards doesn't bust.
There is a two-to-one payout for a hand of 21 with at least five cards.
Download Only for US Players
It appears this game might only be available in the download version of the rtg software. For the non US residents, the Microgaming version of the game is available in both instant play and the download.
Super 21 Blackjack Conclusion
Super Fun 21 is exactly what it sounds like. The change of pace is nice.
This variant of blackjack has a lower return than the standard game. Most tables have a 1.4% house edge for Super Fun 21. In a double-deck game, that percentage drops by 0.1%.
For an extra bit of fun, try something different if you're bored with standard blackjack games. US players can play Super Fun 21 at RealTime Gaming online casinos, while everyone else can play at Microgaming ones.
Below we have listed the featured online casino where you can play Super 21 blackjack. Since some casinos may allow US players and some may not be sure to see the restricted country lists on the reviews.
Vegas Casino

Blackjack 150% Bonus
US Accepted
Mobile Available
Progressive Jackpots
Live Dealer Games
18+ Terms and Conditions Apply
See casino site for more information. Please gamble responsibly. 18+ begambleaware.org.