Atlantic City Blackjack Review
A closer look at Atlantic City Blackjack review and differences in rules or game play compared to other blackjack variants.
Understanding Basic Blackjack
Before digging too deep in the many variations and different types of blackjack, you should make sure you understand the basics.
If you would like to know more about how to play, we suggest you take a look at our article Blackjack Basics and Rules here.
Blackjack Game Play
The obvious basic principle of Atlantic City blackjack as well as other forms is for you to get as close to 21 without going over. Your goal is to beat the dealer and not bust. This means if your hand totals 20 and the dealer is at 19 you win the hand.
No matter how many other players are at the table, you are playing against the dealer or the "house" not the other players.
Atlantic City Blackjack Deal
Atlantic City Blackjack deal starts like most other types. Players at the table place their ante or initial bet. Once all players have done so the deal can start. Once the cards are dealt, the dealer will check their "hole card" (their face down card) and offer insurance if their face up card is an ace. After insurance is taken or declined for all players, the play may continue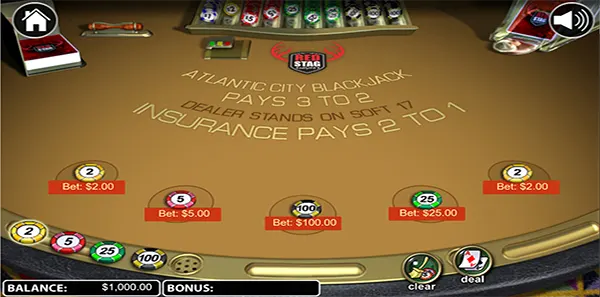 The Atlantic City Blackjack screen shot we showed above happens to be the WGS version of the game from Red Stag Casino. Red Stag is only one of the many online casinos you can play this variation of blackjack.
What is Insurance in Blackjack
To put it simply, insurance is a way to salvage part of your bet in a hand that will lose to the dealer when they get blackjack. It is considered a side bet, and many blackjack strategy folks will suggest declining it.
The basic rule for insurance is that the bet is half of your initial bet and pays 2 to 1 if you are correct. We almost never take insurance.
Main Differences
There are a few differences that stand out when looking at Atlantic City variation. The two main differences are as follows:
Dealer must stand on 17, even of it is a soft 17.
Player may make a late surrender even after the dealer has checked for blackjack.
Atlantic City Blackjack Payouts
The payout you will most often see for getting a blackjack in Atlantic City Blackjack is 3/2.
We have found that small number of casinos have a 6/5 payout on blackjack and we will never play those games that have that payout. This lowers the overall return a player can expect over the long term. For that reason we recommend you skip that.
Bet Limits
Often casinos have the option of adjusting the bet limits, and some even have higher limit tables for their VIP status players.
Currently the most common wager limits you will see on Atlantic City blackjack are as low as $2.00 and up to $100 per hand.
House Edge or RTP
Most blackjack games do not have a huge house edge and very decent RTP and this variation is not different. The average RTP of Atlantic City Blackjack on most online casinos is approximately 99.50% – 99.56%.
Be aware though as we mentioned above, if you play in a casino that changes the blackjack win payout to 6/5 the casino house edge goes up and would have a lower RTP.
Let's Wrap Up the Atlantic City Blackjack Review
Of the various variants to play the Atlantic City blackjack variation is a decent one. We usually do not take the side bets in this game near as often as we do in Perfect Pairs of Suit 'em Up, but when we play blackjack this is one of the ones we will play. This game is sometimes more popular among some players as they like to see the dealer stand on the soft 17.
If you haven't tried this version of blackjack, be sure to give it a go at your favorite casino. You can find this game at WGS casinos as well as Microgaming casinos for those players not in the US.
Aztec Riches

Deposit Bonus 50% Up to $50
Mobile Available
Progressive Jackpots
Live Dealer Games
18+ Terms and Conditions Apply
See casino site for more information. Please gamble responsibly. 18+ begambleaware.org.