European Blackjack Gold
A review of European Blackjack Gold which is offered by many online casinos especially those using Microgaming software.
Released by Microgaming in 2006
Many online casinos offer European Blackjack Gold. It is a sleek, sophisticated, stylish, and simple game of Blackjack. This game is developed by Microgaming, a developer renowned for its quality and consistency.
It is a competition between players and the dealer to see who can play the best hand. If the player's hand is less than 21 and beats the dealer's hand, the pot is won.
Quick Overview
All 17s (hard and soft) must be stood by the dealer. Blackjack pays 3 to 2. There is a 2:1 payout for insurance.
You can enjoy this posh game as if you were playing in a Las Vegas casino, but at home.
How to Play European Blackjack Gold
The highest-value hand will be decided by a battle royale between you and the dealer. There is a minimum wager of €1, and a maximum wager of €200. You can choose a chip size out of 1, 5, 10, 25, 100, or 200. To get started, select your chip value and click the deal button. You can also clear bets to place a new bet. It's recommended that you play with the sounds on since they enhance the game's authenticity since it mimics a classic Vegas casino with piano music in the background and Blackjack players on the screen.
You will be dealt two cards face-up by the dealer once you click on the deal button. There will only be one card visible from the dealer's hand. Now you have the option of hitting (taking another card) or standing (doing nothing). When you hit and you bust (this is when your hand exceeds 21), the dealer wins. You must play your cards before the dealer plays their cards.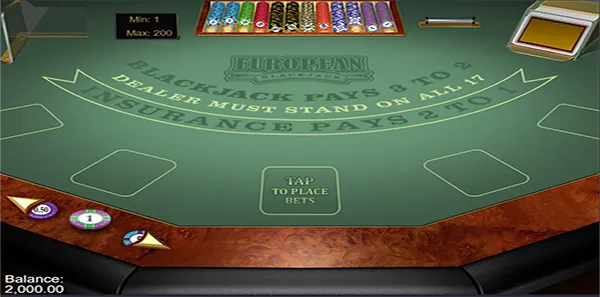 A Premium Blackjack Game
Blackjack Gold is the premium edition of the game, with an intricate design and a high-quality finish. You have the option of re-betting or clearing your bets after the hand is played. Once you have made your selection, click the deal button to resume.
It is fairly easy to understand the rules of the game. There are only two decks of cards used in this game. This casino card game offers better odds to the skilled card counter than other casino card games, such as Spanish 21 Blackjack, which uses eight decks of cards. Also, by standing on all 17s – soft and hard – the odds increase.
In this case, the dealer must stand if his or her hand totals 17 with an Ace counting as 11 or 1. The dealer also does not peek at his cards, another player-friendly rule. Double downs are also allowed on hard nines, tens, and elevens, and you can split a hand once. Splitting Aces can be done with multiple cards. The 21 hand will be counted as a 21 when a 10-value card is placed upon a split Ace. This is not considered a blackjack though, therefore, you will not receive a 3 to 2 payout, but rather the regular payout. In contrast to other Blackjack games, 10-value cards cannot be split.
Features and Extras of the Game
Players can adjust both the gameplay settings and the sound settings in European Blackjack Gold. As an example, you can choose not to remove losing hands and toggle quick deals and auto re-bet as you wish. In terms of sound settings, you can either turn off all sounds, turn off win sounds, turn off advanced sounds, or turn off background sounds.
European Blackjack Gold Conclusion
The European Blackjack Gold table game looks as real as you could expect from an animated table game. The experience may be the perfect solution for those looking to get a taste of the casino from the comfort of their homes. However, there are no customization options, side bets or variants available in this European Blackjack Gold review. This game is really just another blackjack game with a fancy name.
Overall most blackjack players will like this version of the game. The rtp is in the range players want to see. Since this game only uses 2 decks of card you may feel better about choosing when to stand or hit.
Aztec Riches

Deposit Bonus 50% Up to $50
Mobile Available
Progressive Jackpots
Live Dealer Games
18+ Terms and Conditions Apply
See casino site for more information. Please gamble responsibly. 18+ begambleaware.org.